Ordering
Ordering from us is quick and easy. Jerry's Meats & Seafoods offers an online catalog featuring fresh frozen Alaskan Salmon and Halibut, Smoked Salmon, Dips and more.
If you prefer to order by phone, call us at (907) 789-5142 or toll free 1-877-789-0789 between 7:00 am and 5:00 pm Alaska time. Please be sure to have your credit card handy when you call.
We must ship your seafood to a physical address (not a P.O. Box). We can ship to a work place if it is more convenient. Please include the name of the business. Orders shipped to residential addresses will be left at your front door.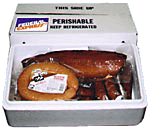 We ship your order to arrive Tuesday thru Friday, Saturday delivery available for extra charge. We will ship your order as soon as possible unless you request a special delivery day.
Shipping
The cost of shipping is included in the purchase price of your order. (Continental U.S.A. only.) The cost of Standard Overnight Service (SOS) is included in the purchase price of your order. If SOS is not available to the delivery address, a $20 Priority Shipping charge will be added to your order.
All your purchases are shipped FEDERAL EXPRESS in reusable, insulated coolers
All flash-frozen seafood is shipped Standard Overnight Service (SOS), except when SOS is not available where you live.
Smoked Salmon, Crab Dip and Salmon Spread are shipped two-day Service.
If you have any questions about your products, we provide a toll-free number, easy to prepare recipes and delicious serving suggestions inside every order.